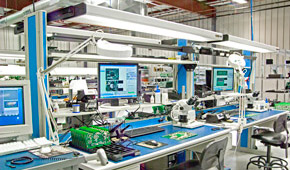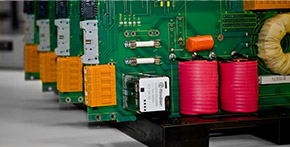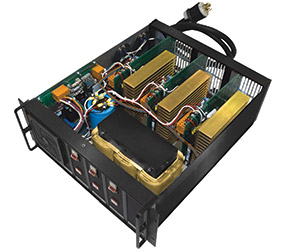 Services
Electronic Contract Manufacturing -
Printed Circuit Board Engineering, Assembly and Testing
With AMT, you get all of the assembly, engineering and testing assistance you need. You will be provided with high-quality printed circuit boards and electro-mechanical assemblies manufactured to the most stringent of IPC standards.
AMT can become your strategic partner; our in-house design engineering staff can design new platforms, transform obsolete or troublesome platforms into state-of-the-art products or be a valuable resource to help you prepare your product for manufacturing.
Our services include:
Conceptual Design
PCB Layout Design
Design for Manufacturing (DFM)
Design for Test (DFT)
Embedded Application Development
Through-Hole
Surface Mount (SMT)
Mixed Technology
Electromechanical

Chassis Sub-Assembly
Cables
Harnesses
Functional and Bench Top Test
In-Circuit Testing
Final System Verification
Automated Solutions

RoHS-Compliant Manufacturing
Conformal Coating
Prototyping
Re-work and Repair
In-House, Full-Service Engineering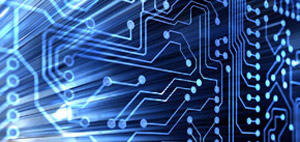 Your Full-Service In-House Engineering Firm
If you need assistance with design, re-design, printed circuit board (PCB) layout or prototyping for applications in aerospace, automation, defense, industrial, medical, power, process control or consumer electronics, AMT is ready to become your strategic partner.
We specialize in designs for:
Hand-held
Large Motor Controls
Robotic Control Systems
Motion Controls
Next-Generation PCBs
Firmware Updates and Custom Firmware
Wireless Applications
We also offer a comprehensive array of DFM and prototyping services. Our DFM capabilities include converting to surface mount and re-designs for enhanced features.
Assembly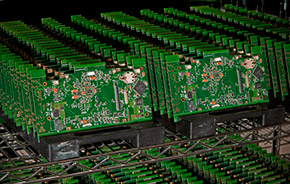 AMT offers Through Hole, Surface Mount (SMT) and Mixed Technology PCB assembly. Unless specified otherwise, we manufacture all PCBs to IPC Standards Class 1-3.
To best meet your needs, our three SMT lines support ultra-fine pitch, BGA and Micro BGA components, as well as Passive components down to 01005. All Surface Mount products receive 100% Automated Optical Inspection and X-ray inspection can also be incorporated if required.
When it comes to electromechanical assembly, AMT builds cables, harnesses and enclosures to the highest standards by using state-of-the-art auto-prep and auto-crimping equipment. Our fully-automated test system includes real-time SPC to ensure that all of your assemblies meet specifications.
Test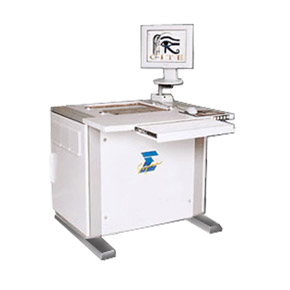 Putting Your PCBs to the Test
At AMT, our engineers are prepared to assist you with technical consultations, development of testing specifications and conducting tests of your PCBs to make sure they're field-ready.
Our functional, in-circuit and final systems testing will give you the knowledge you need to exceed your customers' expectations.
PCB testing solutions consist of:
Fixtures and programming for in-circuit testing platforms
Developing strict test requirements
Designing automated and manual interfaces
Creating automated test solutions, including LabVIEW applications and National Instruments Data Acquisition hardware
Maximizing PCB test operator efficiency
Compacting database integration for ease and accuracy of reporting
Taking corrective actions, as appropriate, and reporting them to you
ZERO Tolerance for Failure!
We know that the smallest defect on a component can mean the difference between a PCB that works, and one that needs to be repaired.
That's why we perform in-circuit testing that checks for shorts, opens, resistance, capacitance and other faults to determine whether the PCB was fabricated correctly.
To make sure your PCB can withstand the most extreme operating conditions, we perform functional testing, analyze test results against expected outcomes, and make any adjustments necessary.
We also perform a battery of final system tests that we customize based on the specific applications of your PCBs.
Special Processes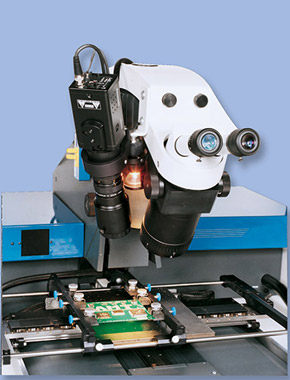 Special Processes Make Us Your Valued Partner
Our special processes go beyond the typical capabilities of an electronic contract manufacturer.
Assist with RoHS compliancy
Apply conformal coating
Design prototypes
Perform circuit board rework
Other advantages of our services
Superior materials procurement for achieving higher quality at lower cost
Improved documentation and traceability
Enhanced product durability
Longer product life cycle